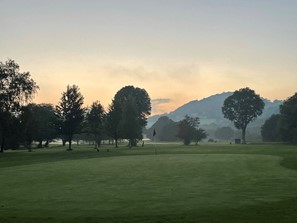 Here at the Vale of Llangollen Golf Club we love to welcome visitors to our club. Many return year on year to play our wonderful Championship Course and immerse themselves in the wonderful views and vistas the course affords.
There are a number of ways you can plan your visit to us.
Be sure to work out which suits you best and follow the links to check availability :
Casual Round : Suitable for anyone looking to simply book a round and visit our course to play a casual round
Open schedule : Always popular, our Opens fill up quickly and provide the option to play many formats with the added bonus of potential prizes at the end of the day.
Society Packages : Part of a larger group ? (12 or more). Then our society package may offer you an excellent option of configuring your own day amongst friends or colleagues. Please call the office for more details 01978 860906

Managed days : We work with a number of events managers such as Maxi-tours and GreenGolf who hold golfing competitions at our course during the year. Please consult GolfEmpire to find out about events here.